This week we celebrated having our puppy for a year. In honor of our puppiversary, I wrote about her first birthday experience that I should have shared months ago… but pregnancy can slow you down a bit… okay, a lot.
Little Miss Winifred is my first dog in a sense. My parents had dogs growing up, but they were always outside and never really "mine" I guess. It wasn't until I begged Jake for a dog and somehow convinced him to "go look" at one that I found on Craigslist. A short trip to the other side of town and $40 later, I had this small 6lb black puppy in my arms and we were on our way to Walmart at 11:30 at night to get food and a crate. I had my first puppy. I named her Winifred. Winnie for short. Or Winna for even shorter.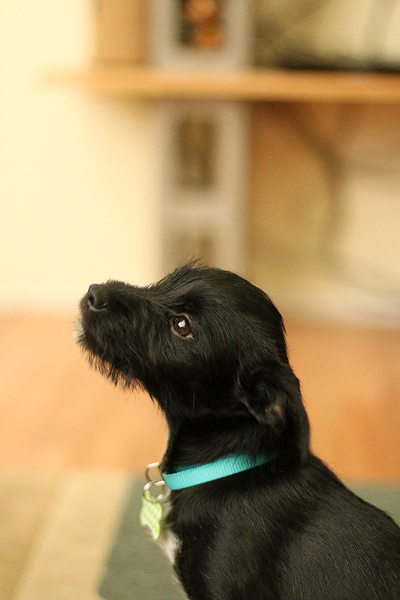 I fell madly in love with this little pup so quickly. I knew when her first birthday was approaching I had to do something special for her. I mean it's not EVERY day that my puppy turns one year old right!?
So as her big day was approaching, I got ahold of Dog Gone Crazy Pet Salon and Animal Lover's Bakery to give Winnie the best day of her life. Whitney over at Dog Gone Crazy was our first stop of the day.
Let me first start by saying, Whitney is SO good with dogs. Her sweet personality and gentleness helped relax Winnie during her first professional grooming. She got trimmed, bathed, nails clipped, dried, and even had a fun little dress up time. It was all done so well and so efficiently that the whole process didn't take very long, but gave Winnie just the right amount of time of pampering.
After she got her all bathed and groomed, we obviously had to have a bit of a glamour session with her, trying on some different outfits…
Whitney's attention to detail throughout the entire experience was so refreshing and comforting knowing that my beloved pet was in the hands of someone who truly cared. She even took the time to write a little note for Winnie by the front entrance.
After our exceptional experience at Dog Gone Crazy, we went home where we had Winnie's second surprise…. a birthday cake! As a photographer, I knew that most children get a first birthday "cake smash" photo session. So it was only right that I gave that experience to my little pup. Erin from Animal Lover's Bakery was quick to respond to my cake request and even delivered it to our house. Talk about great customer service! She made Winnie a homemade peanut butter cake with yogurt frosting. It was grain free and filled with all natural ingredients for our little one.
As if the turquoise frosting and pink lettering wasn't enough, she even included little dog treats around the cake to add to it's cuteness!
Winnie is obviously pretty familiar with the camera…
At first, Winnie really wasn't sure about it. She's pretty well trained, so she knows better than to dig into food that doesn't look like hers. So Jake had to cut a piece and give it to her to let her know that it was okay.
Once she started eating it… she couldn't stop. She LOVED it! She did however, eat her piece of cake like a lady. She didn't get frosting all over her chops or make a mess. She was quite clean about the whole thing.
All in all Winnie had what I would call an amazing first birthday… especially for a dog. I mean I can only imagine what I'll do for our son! HAH! Winnie's birthday would not have been made possible if it wasn't for Whitney at Dog Gone Crazy Pet Salon and Erin at Animal Lover's Bakery. Both of those ladies went above and beyond for our little one. I couldn't recommend the both of them enough and highly suggest you try them out if you're ever in the market for a dog groomer or treats for your pet.
Although most people don't do things for their pet's birthdays… I couldn't help myself. My heart is so full for our little Winifred and she deserved a day especially for her. So here's to another year loving our little dog child as we welcome in our first human child to this crazy family.